Wedding Day: 5 Reasons to Have a First Looking
Back when I first started Photography almost 5yrs ago one of the very first Wedding Day events I learned of was the First Look- this is when the Bride and Groom get to see each other prior to the Ceremony and take their portraits. Speaking truthfully here.... I hated the idea. All I could think about was how untraditional that was and how much my family (particularly the older generation) would hate it. Then my 2nd year in business I was asked by one of my couples to include a First Look into their photography timeline.
From that day forward, I became a strong advocator of the First Look.
Being on the other side of a Wedding Day (the side that helps ensure the day runs smoothly so that the Bride & Groom can enjoy their day) I quickly learned what "tradition" meant and how important it was to not let that idea completely overtake your day. A Wedding Day is the opportunity for you to incorporate the events that are meaningful to you as a couple and to create some wonderful new traditions of your own.... and I remind all my couples of this while they put their timeline together.
So here are 5 reasons why I am such a believer in the First Look and what that moment brings to a Wedding Day:
Please Note: The only time I do not recommend a First Look is when you have a 2+ hour timeframe between your Ceremony end time and Reception start time. The majority of your Vendors are contracted under a consecutive hourly time frame and adding a First Look may extend into overtime & additional fees. If you have your heart set on a First Look I highly encourage communicating this with your Wedding Coordinator to keep in mind as you book your venues and set your event times.
1. Ease Those wedding day nerves
Your Wedding Day is an emotional and exciting day.... getting to see your [almost] Spouse before all of your special events begin is the perfect way to ease those nervous and simply enjoy the moment together. The minute you lay eyes on your handsome Groom and gorgeous Bride all is right in the world and everything else is simply the sprinkles on top. You get that "It's about Us" feeling and that's pretty priceless if you ask me.
Portraits are generally done during the Cocktail Hour and trying to fit Couple, Wedding Party and Family photos in this ONE hour is extremely difficult. Unless your Cocktail Hour will be hosted for an hour and a half to two hours (or you have a significant time gap between your Ceremony & Reception that will allow us time for photos) their will be limitations on how many photos you can take, where and with who. If there is one portion of your day that shouldn't be rushed it's your Portrait time. Once the Wedding events begin we move from one thing to the next and if anything runs behind (even if by a few minutes) the first event to be cut down is always the Portrait time. I have heard it all from "We'll get to it later" or "I think we have enough" and perhaps we will be able to sneak a few more Couple portraits later in the evening or we do have enough but why risk it? A First Look will ensure that these photos are first on the list and that we use all the locations that you envisioned.
3. You Can Spend More Time With Your Guests
Once the Ceremony has ended your focus is no longer on the photo list that we have to get through but it is on your family and friends.... as it should be in my opinion. As a photographer I WANT you to spend as much time celebrating and knowing that half your heart is with me as I take your Couple Romantics and the other half of your heart is on the other side of the venue with your loved ones make me feel a little sad to ask you to choose. Why not have both? Have an incredible Portrait time. Enjoy Cocktail Hour. Spend every minute that you possibly can with those that have been by your side on your journey to marriage. You'll have guests that have traveled from near and far to be there with you and they want to see you as much as they can. Also, you get to eat! Try those awesome custom Cocktails that you created just for the occasion.... have the yummy appetizers being passed around. The genuine moments 0f you with your College buddies toasting at the bar, your girlfriends taking a group selfie and Grandma & Grandpa hugging on you are the memories that I want you to have photos of.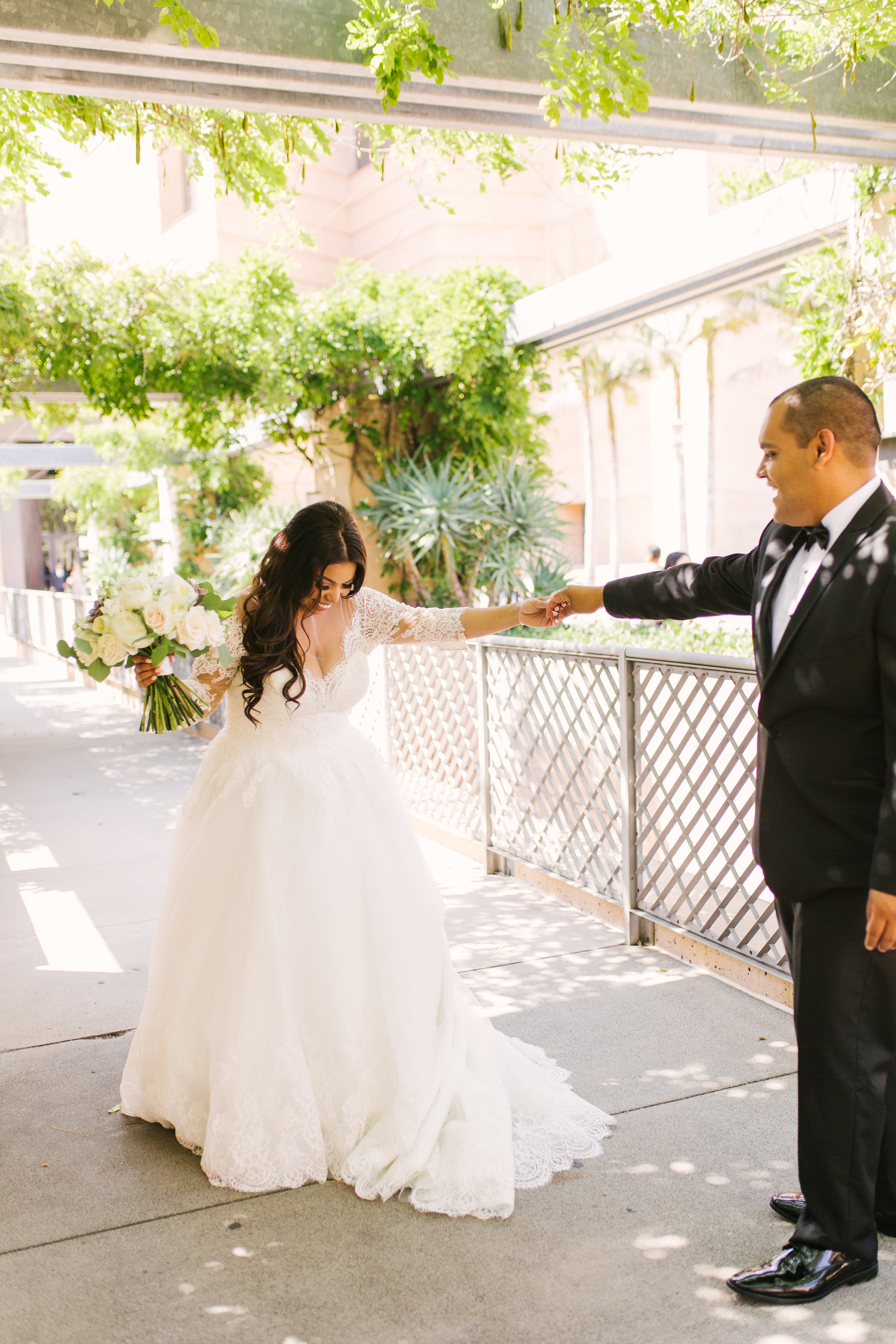 4. VENUE TIME FRAME IS NOT WHAT IT USED TO BE
If you have been married within the last 10 years you'll have noticed that booking a Wedding Venue is not what is used to be.... or at least your parents will notice because their Wedding Day was more than likely completely different. It is now more of a common notion for all events (Ceremony, Cocktail Hour & Reception) to take place at one location and within a 5-6 hour time frame. However, most venues will give you early access onto the venue grounds for photos.... this is were the First Look comes in! If you spend 2hrs before your Ceremony begins to take all of your portraits (I usually ask Couples to please have their entire Wedding Party and Immediate Family present to get their portraits done right after your First Look and check those off of the list too) then all the time you have after that is yours to do as you'd like. You can still sneak in a few sunset photos or extended family photos but the pressure of those key photos is off and you'll be thankful for that!
5. YOU WILL STILL HAVE ALL THE FEELS
I purposely left this reason last because it is one that I struggled with. I am not married and have not had to make this decision yet but my dream was to have my Future Husband get the first glimpse of me as I walked down the aisle. So I get how important this may be to other Brides who actually have to make this decision. Now that I have been present and documented the First Look I can honestly say that it makes my heart race in a way that I never thought it would. I have never appreciated a moment more.... and I was extremely skeptical about it. When these two beautiful souls that are so in love get to see each other, share the biggest hug and tear up in each others arms, I feel it to my very core. I can tell right in their faces that all the feels are still there, no moments have been lost. I love traditions and the idea of passing things on, but this moment right here? This is the tradition. Getting married is not for everyone but the fact that you are willingly committing to one another for the rest of your lives and dedicating an entire day to vow in front of your family and friends is already a tradition in itself. Oh and if you're wondering, I am absolutely going to incorporate the First Look on my future wedding day ;)
Have the conversation with your Fiancé and discuss what is really important to you on your Wedding Day and what you want the takeaway to be. If all of the items on the list above will help you achieve your overall goal & must-haves then I highly suggest going with a First Look. Speak to other Couples who went with a First Look and get their feed back.... let your photographer know how much time you are able to dedicate to photos if you do not have a First Look (aka how long your Cocktail Hour is) so that they are able to tell you how many photos you can realistically get done in that time frame to help you decide.
The most important thing is that you are happy with your decision as a Couple! This is what gives you the best photos, the two of you having the time of your lives :)
Happy Wedding Planning!
PS- Don't forget to scroll up and select the Comment icon to share your thoughts :)